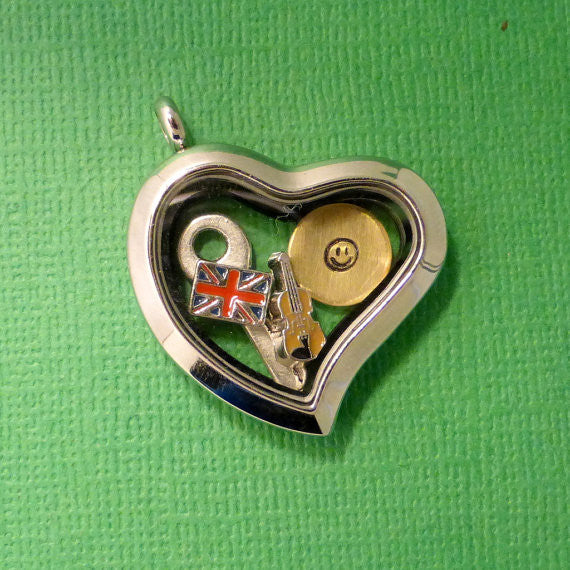 Sherlock Inspired - 221B Baker St. - A Floating Locket / Memory Locket / Living Locket
$9.99
We've filled this sweet heart design locket full of charms that we've collected that make us think of Sherlock Holmes. A Yale Key, a brass disc stamped with a smiley face, a union jack, and a violin. You can buy the locket as a necklace, bracelet, or keychain, or if you already have your own Floating Locket, you can purchase the loose charm set. A great gift for the Sherlock fan!
ABOUT THE NECKLACE: This piece includes a 30mm stainless steel floating locket with a magnetic closure, a glass face on two sides, and comes with 31" loop necklace.
ABOUT THE BRACELET: This 30mm stainless steel bracelet is kept closed by the chain attached at either end, has a glass face on two sides, and is on a large rolo chain. It can fit up to a 7" wrist.

ABOUT THE KEYCHAIN: This is a purchase clip style keyring with a short rolo chain attached to a locket with magnetic closure, and a glass face on two sides.

Each piece is hand stamped by me on a made-to-order basis. I stamp everything character by character, and so each item will be unique with its own little quirks. I do my best to keep everything as centered and straight as possible, but please remember that these are handmade and a small degree of change between pieces must be expected.

CUSTOMIZATIONS: Because these necklaces are made to order they are fully customizable with any of the fonts or design stamps you see in the example photos - though please note that the FIONA font is too large to be used on the discs. If you'd like to customize your order go ahead and just leave me a note in the "Message To Seller" field when you check out, and I'll get to it as soon as I can.


SHIPPING & OTHER NOTES: We produce everything as quickly as possible, but our general production period is 1-2 weeks, but you can look at the "Welcome" paragraph on our front page for up to date information. Follow me on Facebook or Tumblr for up to date news on products, coupon codes, and more!