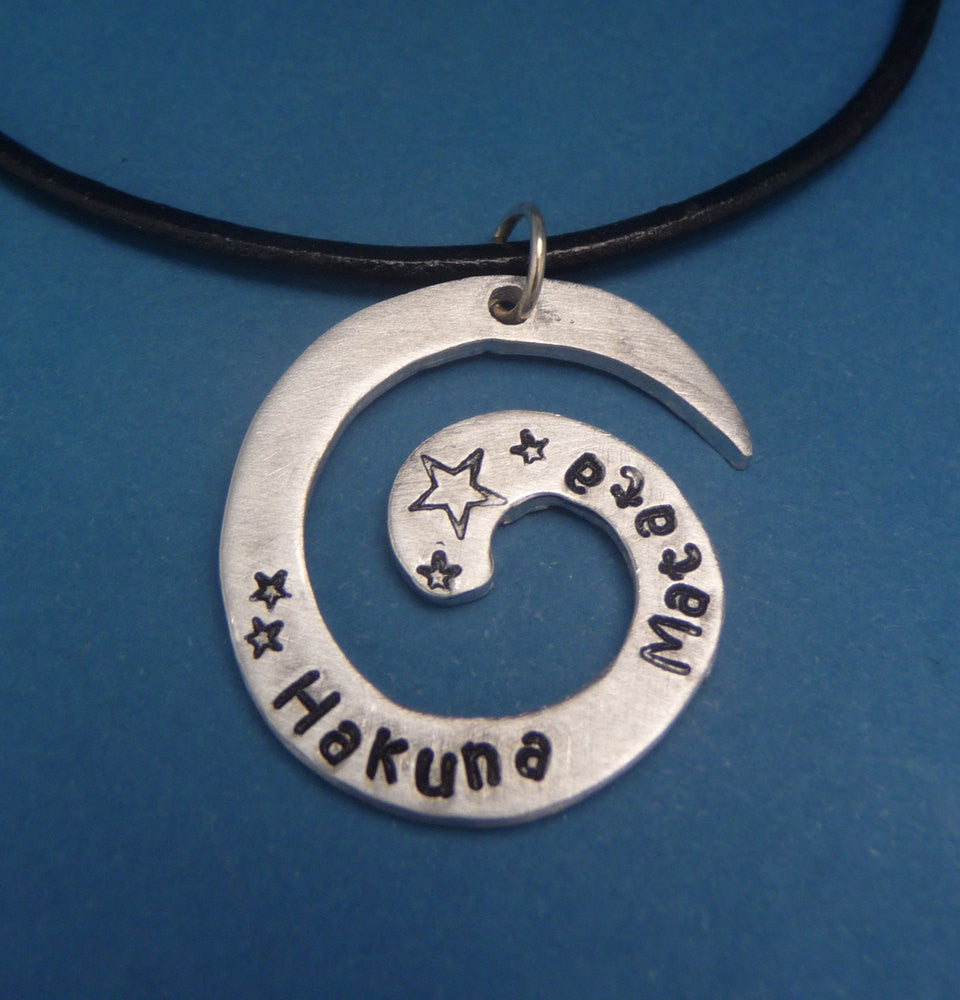 Lion King Inspired - Hakuna Matata - A Hand Stamped Aluminum Spiral Necklace
$18.95
"Hakuna Matata" is a Swahili phrase that literally translated means "There are no worries," but we all know you're really only looking at it because it's from The Lion King. Stamped here in my Wackadoodle Font. A great gift for any Lion King or Disney fan!
For more Disney related items please check out the Disney Inspired section of my shop here.
ABOUT THE NECKLACE: This lovely Aluminum spiral is 1 inch wide, and placed on an 18 in. black faux leather necklace. It's made from 1100 pure Aluminum, which is very safe for your skin. In fact, pure aluminum has a lower rate of skin reaction with Aluminum than there is with Sterling Silver.
Each piece is hand stamped by me on a made-to-order basis. I stamp everything character by character, and so each item will be unique with its own little quirks. I do my best to keep everything as centered and straight as possible, but please remember that these are handmade and a small degree of change between pieces must be expected.
CUSTOMIZATIONS: This piece is new to the store, and so delicate it is extremely limited in what I can fit onto the piece. So at this time I am not accepting customizations until I figure out just what exactly will and won't fit on it.
SHIPPING & OTHER NOTES: We produce everything as quickly as possible, but our general production period is 1-2 weeks, but you can look at the "Welcome" paragraph on our front page for up to date information. Follow me on Facebook or Tumblr for up to date news on products, coupon codes, and more!
Thanks for visiting Chasing At Starlight!