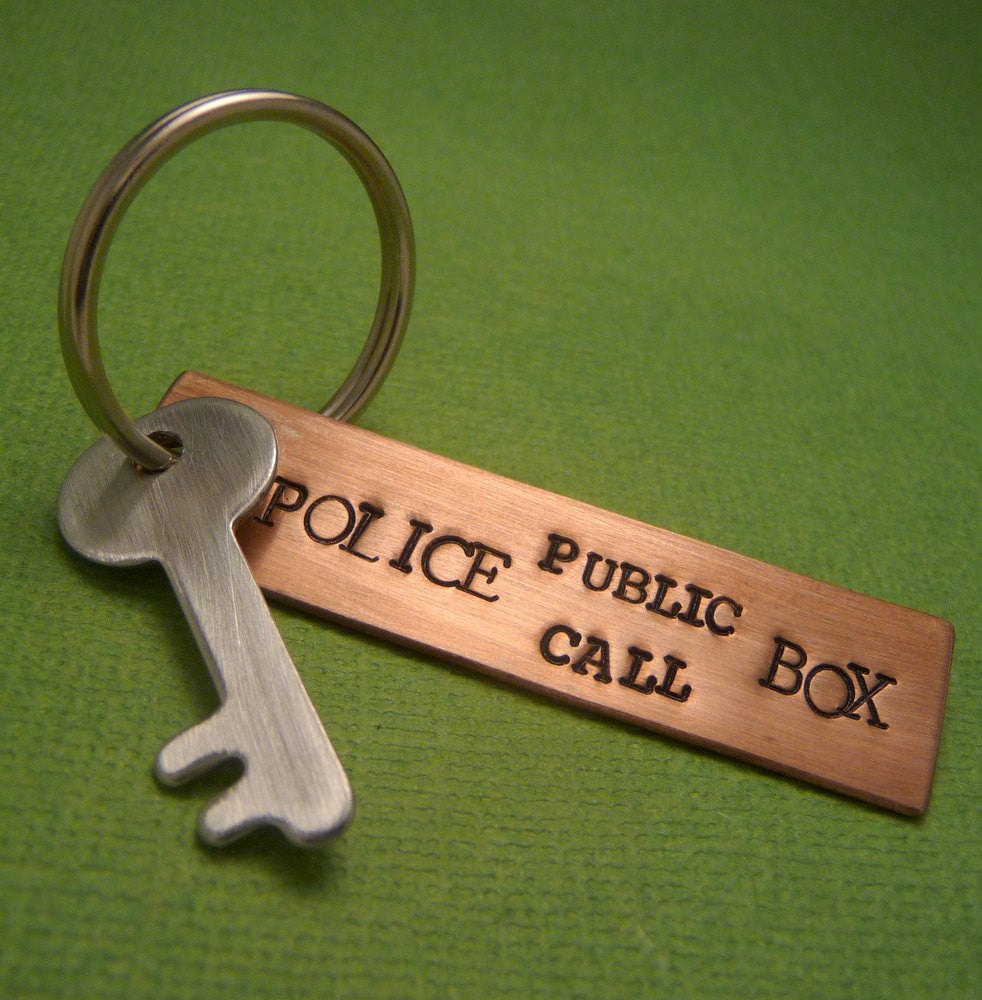 Doctor Who Inspired - Police Public Call Box - A Hand Stamped Keychain in Copper, Aluminum or Brass
$16.95
"POLICE PUBLIC CALL BOX" - The words on the sign at the top of the TARDIS, stamped here in my Typewriter Fonts. A great gift for the Doctor Who fan!
For more Doctor Who related items please check out the Doctor Who Inspired section of my shop here.
ABOUT THE KEYCHAIN: This rectangular tag is approximately 2 inches by 1/2 an inch wide and is available in Copper or Aluminum. The key is approximately 1.2 inches long and is available in Aluminum, Brass, or Copper.
Each piece is hand stamped by me on a made-to-order basis. I stamp everything character by character, and so each item will be unique with its own little quirks. I do my best to keep everything as centered and straight as possible, but please remember that these are handmade and a small degree of change between pieces must be expected.
CUSTOMIZATIONS: Because the Typewriter font is the only font of which I have two sizes, this item cannot be cutomized. It also won't fit any design stamps. What can be changed are the materials of the rectangle (available in Copper or Aluminum) and key (available in Aluminum, Brass, and Copper), which can be done from the drop downs, and the necklace portion which you can see in the attached photos - just leave me a note in the "Message To Seller" field when you check out, otherwise we'll assume you'd like to stick with the pictured black faux leather cord. Please note: This piece can only be stamped on ONE SIDE. It's strong, but the stamping process is still hard enough that stamping on two sides warps the piece.
SHIPPING & OTHER NOTES: We produce everything as quickly as possible, but our general production period is 1-2 weeks, but you can look at the "Welcome" paragraph on our front page for up to date information. Follow me on Facebook or Tumblr for up to date news on products, coupon codes, and more!
Thanks for visiting Chasing At Starlight!